GLISA is proud to publish the bids to host the 4th worldOutgames by both Miami Beach and Reykjavík.
All GLISA members from around the world are invited to register to vote to choose whether Miami Beach or Reykjavík will be the host of the 4th worldOutgames in 2017.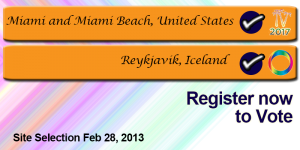 The meeting will be held physically in Antwerp, Belgium, host of this year's worldOutgames. Instead of having members fly to a destination for the vote, we have setup a virtual meeting online so if you are unable to be in Antwerp on that day, you can join in by video conference or teleconference – and still cast your vote. It's easier for you and ensures greater participation from all GLISA members.
The site selection starts on the 28th of February at 1800 local time (1700 UTC/GMT, 1200 EST, 0900 PST, 0500 Eastern Australia following day). Click here for times in your location.
Every GLISA member organization has one vote. International Federations such as the European Gay & Lesbian Sport Federation and International Front Runners have two votes each, and the GLISA Continental Associations also get to vote.
You need to register in advance to attend the meeting – both for voting and attending so that we can organize the logistics. Click here to register no later than 15 February!