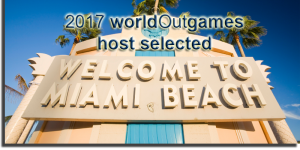 Antwerp, Belgium 28 February 2013 – Miami Beach, Florida, will host the 2017 World Outgames, an international sporting event that is organized to help advance gay, lesbian, bisexual and transgender human rights around the world. The decision was taken by a committee in the presence of mayors from both finalist cities, including Mrs. Matti Bower, Mayor of the City of Miami Beach and Mr. Jon Gnarr, Mayor of Reykjavik. "The selection process required a lot of effort, the visit in Antwerp has been very exhilarating, and we are ready to put on an amazing event in 2017" said Mayor Bower.
"Our members had to choose between two fabulous cities this evening. Miami Beach and Reykjavik are very different from each other but each is equally exciting in its own way," said Paul Brummitt of the Gay and Lesbian International Sport Association (GLISA). GLISA organizes the World OutGames and Paul is chair of its Site Selection Committee. GLISA co-president Daniel Vaudrin added "By winning the 2017 World Outgames, Miami has beaten fierce and worthy competition from major cities around the world. It is wonderful that such influential cities support our endeavour of raising human rights issues through sports.
"It was a very inclusive and democratic decision-making process, with members connecting by videoconference from as far afield as Australasia, Mexico, and Tonga," Vaudrin explained. "We are thrilled that Miami Beach and the voters are offering us the opportunity to organize the World Outgames in the United States. Miami is a particularly important place for us to be raising gay, lesbian and bisexual human rights issues because of its strong links to Latin America and the on-going political discourse within the US itself."
The first World Outgames was held in 2006 in Montreal and attracted more than 12,000 participants. The event was based on three components: Sport, Culture and Human Rights. The second World Outgames was held in Copenhagen in 2009. It was an attractive, open and inclusive event that welcomed the local and international LGBT community as well s the wider population of Copenhagen and Denmark. "We're thrilled that gay, lesbian, bisexual and transgender athletes will have the opportunity to build on the human rights legacy of Copenhagen and Montreal. It is wonderful that Miami Beach will be carrying the flame of our international community in 2017," Vaudrin said. In the meantime, the next edition of World Outgames will be hosted this year in Antwerp, Belgium, from 31 July to 11 August.
About the Gay and Lesbian International Sports Association
Established in 2004, the Gay and Lesbian International Sport Association is a democratically governed, international association of sport, culture and human rights organizations that work for lesbian, gay, bisexual and transgender (LGBT) people. GLISA's mandate is to support and grow an international LGBT movement by organizing continental associations, continental Outgames, and global World Outgames every four years.
Media Contacts
Daniel Vaudrin, Co-President GLISA International
daniel@vaudrin.ca     Tel. +1 514 998 4282
For Mr. Jon Gnarr, Mayor of Reykjavik
Hulda Gunnarsdottir
Press officer for Reykjavik City
Hulda.gunnarsdottir@reykjavik.is
Tel. +354 6939384
For Miami Beach / Miami LGBT Sports and Cultural League Inc.
Richard Murray
+1 305 321-0275
Links
·       Gay and Lesbian International Sports Association
·       2013 World Outgames, Antwerp, Belgium